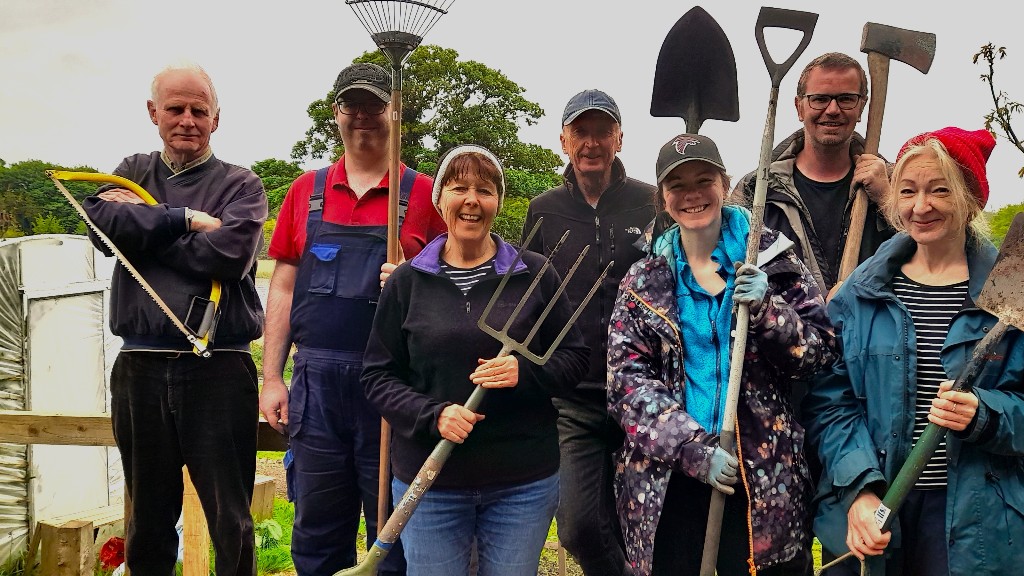 It'll start sooner than you think!
It's gloves on and spades at the ready for all the fabulous volunteers at Jock Tamson's Gairden who will be gardening from dawn until dusk on Saturday 18th June to raise funds to support this amazing community garden in Edinburgh.
The volunteers will be encouraged throughout the day by performers including the Summerhall Singers, U3A Ukulele Band, the Phoenix Choir and dancer, Molly Scott-Danter.
Our Greens to Go Stall will also be open selling produce, preserves and flowers from the gairden.
Here's what's going on, make sure you don't miss anything.
6am until 10pm
Volunteers will be gardening their socks off, digging, sowing, planting, mowing, harvesting, pruning, potting on……….. If it is a gardening activity we'll be doing it! All to raise funds so we can keep gardening and helping people
11am:
Molly Danter: led by dancer, Molly Danter, The Romp will be a light-hearted trail through the Gairden. We will meander in and out of the paths, stopping to see, smell and touch what is growing around us, now and again learning a wee song and dance! The Romp is for all ages (let's see how many generations we can get romping around!) and there is no singing or dancing experience required. This is just an opportunity to take a creative ramble through the Gairden and to have a fun break from all the digging!
Noon:
Summerhall Singers: a small community choir with a big heart. They will be entertaining us with an eclectic mix of movie songs and musicals, including Let The River Run and Somewhere.
1.30pm:
The Edinburgh Ukulele band! with Ukehoot support. Stand by for favourites such as 'When I'm 64, You are my sunshine, Spirit in the Sky, Sunshine on Leith and many more. This will be a real treat.
2.30pm:
Carers and Co Choir: one of the four Edinburgh Phoenix choirs, a carers and friends choir and you can expect a cheery rendition of well known songs such as Aretha Franklin and Simon and Garfunkel.
1:30 to 3:30pm
Greens to Go: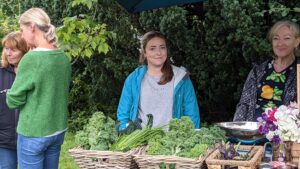 On sale will be produce from the Gairden.
There is a car park with disabled spaces accessible from Duddingston Road West.
You are very welcome to bring a picnic to have in the Gairden and with a view over Duddingston Loch it is a wonderful place to be.
Please support our Gardenathon
People volunteer with us for a wide variety of reasons: mental health problems, seeking new skills to improve employment prospects, social isolation and or loneliness (especially after the pandemic), recovery from alcohol / drug abuse, a desire to give something back to society, a need to be out of doors in nature, those suffering a bereavement, and people who are neuro-diverse and find it hard to fit in with other projects.

Your donation will help us to continue to offer a wide range of volunteering opportunities and will also help to fund special projects throughout the year, such as The Den which will provide a sanctuary space within the gairden for individuals and groups who need peace, quiet and privacy. The Den will include a small, enclosed garden for families, groups and individuals to take part in growing activities.
A huge thank you from all the volunteers and Trustees