Who we are:
Jock Tamson's Gairden is an open green space, which is home to community gardens in a beautiful, small parkland setting. The roots of this Gairden are in the diligent labours and enthusiasm of a team of volunteers and groups drawn from the community of Edinburgh. The name comes from that well-loved Scottish saying 'we're a' Jock Tamson's bairns' or in English 'we're all John Thomson's children' and celebrates the egalitarian nature of what we do here: it is a garden for the whole community welcoming everyone regardless of age, ability, sexuality or background.
Situated on the banks of Duddingston Loch under Arthur's Seat with beautiful views of the Braid and Pentland hills, the Gairden is a peaceful and safe space for everyone who takes part in horticultural and landscaping activities or who simply visits to enjoy being outdoors. Jock Tamson's Gairden is a new charity which is building upon the foundations laid down by Duddingston Kirk's Glebe Project which has spent the last five years establishing the infrastructure necessary for both productive growing spaces and accessible recreation areas.
What we do:
"We advance education through teaching horticulture and outdoor skills both formally and informally"
We grow fruit, vegetables and flowers for sale through local outlets and organisations as well as for donation to charitable agencies in the city. Through these activities we offer individual volunteers the opportunity to learn new skills in production horticulture via hands-on participation, supervised by experienced horticulturalists. We also offer opportunities to learn amenity horticulture skills, i.e. hard landscaping and maintenance, as we continue to expand the network of paths and the creation of seating/recreational areas.
"We advance citizenship and community development by engaging the local community to actively participate in our activities through volunteering"
We bring together people from diverse backgrounds, e.g. retired people and primary school pupils to help to improve inter-generational communication and help to alleviate social isolation. We provide opportunities and facilities for people to find support and to carry out activities that provide an alternative to crime and antisocial behaviour through working with organisations, such as Community Services Unpaid Work Team and Lothian and Edinburgh Abstinence Programme (LEAP). We recruit volunteers largely from the Health and Employability Service team at Volunteer Edinburgh and encourage people, particularly those who have experienced mental health problems and substance abuse, to work with us.
We currently play host to several user groups including:
Tiphereth – a local charity helping adults with learning difficulties and autism that has its own growing area within the Gairden.
Upmo – a Leith-based charity that provides educational workshops within their vegetable garden.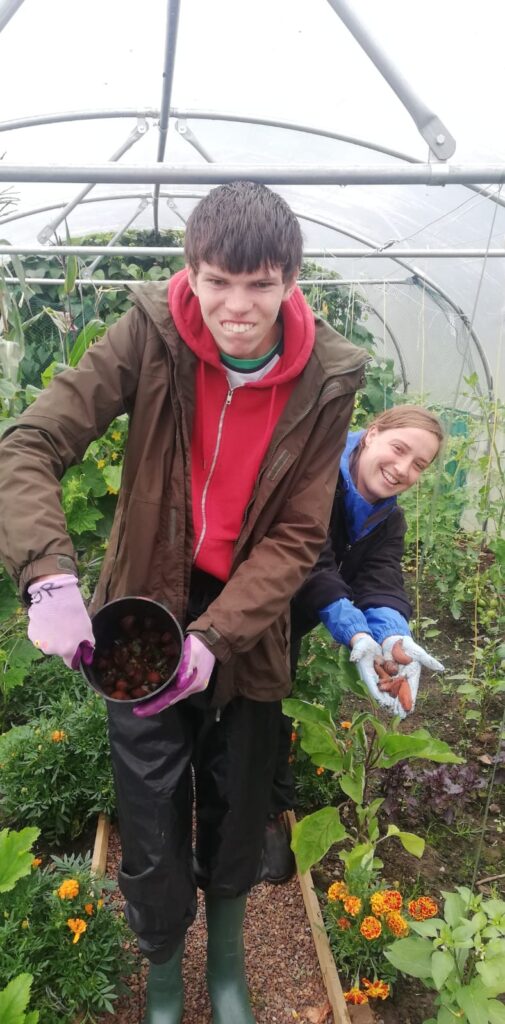 Members of the University of the Third Age Gardening Group who work on a collective allotment.
"We advance the protection and improvement of the environment by growing produce using organic methods and by promoting the benefits of employing good environmental and horticultural practices"
Jock Tamson's Gairden inherited a site that is home to a rich diversity of animal and plant species and we aim to protect these by maintaining appropriate habitats. We work the land using sound organic horticultural practices to promote good soil health, which in turn produces nutritious food. The produce from the Gairden is distributed in a number of ways: throughout the lockdown period and beyond we have been donating fresh vegetables to families in hardship via Edinburgh Community Food and Fair Share in the Niddrie/Craigmillar area, and we also sell produce to local outlets in order to make income for our work.